Double Jacketed Gasket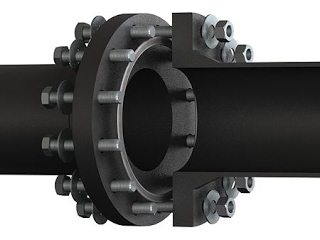 A jacketed or clad gasket is designed with a thin metal jacket to maintain gasket shape and to house the sealing filler. Under the clamping force of the flanges, the filler is compressed and pushes the jacket into the flange surface, creating a seal.
PalmFox As a leading brand in the oil and gas industry world , guarantees its diverse and quality products. Just contact us now to consult and provide the best equipment you need. Quality and durability are the hallmarks of PalmFox brand products. Try it.
This style of gasket has a higher service temperature range than compressed sheet material, can be made in almost any shape or configuration and can be made to any size with no real size limit.
Double jacketed gaskets are the most common gasket used in heat exchanger applications. Less common is the single jacketed gasket type.
The following is a list of some common materials for the metal jacket of the gasket:
-Soft Aluminum
-Soft copper or brass
-Iron or soft steel
-MONEL
-4% - 6% chrome
-Stainless Steel
The following is a list of the materials that are available for the filler:
-Graphite
-PTFE
-Ceramic
-Non-asbestos
Application
Jacketed gaskets can only be used in an ideal flange (clean and undamaged) or it will never form a seal. They wear out overtime due to flange movements and vibrations which eventually causes metal fatigue. When the rounded edges of the gasket experience metal fatigue they will crack and cause a failure of the gasket and seal.
An excellent option for replacement is a Maxiprofile. It can withstand higher pressures, temperatures and any flange movements and vibrations without showing any gasket damage.